Ambire AdEx governance proposal: Revert to AdEx and separate the two websites
Ambire AdEx proposes a governance vote to revert back to the name AdEx and separate it from the Ambire Wallet website. This proposal aims to clarify the distinct user bases of Ambire Wallet and Ambire AdEx, providing a tailored communication strategy for each.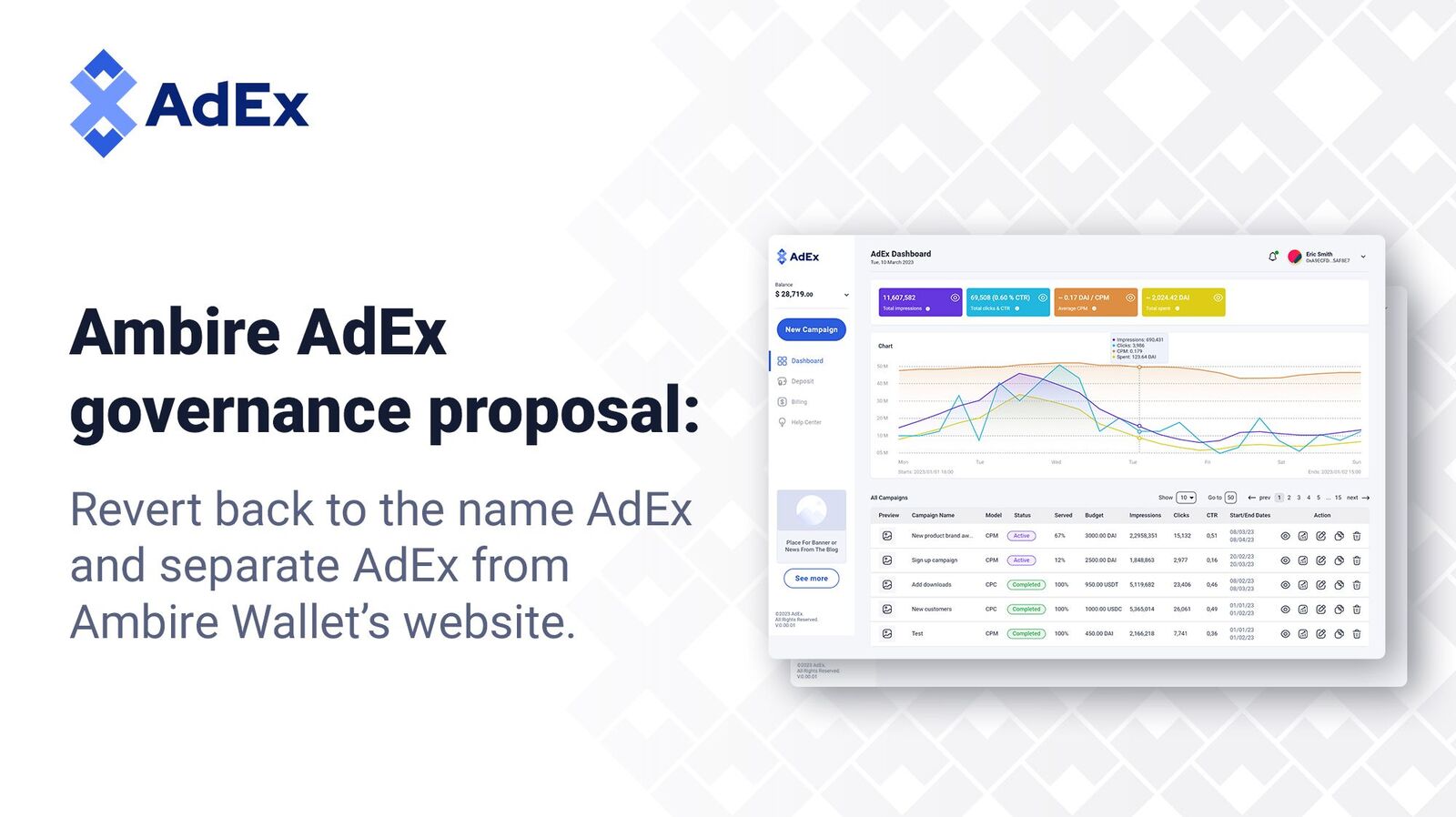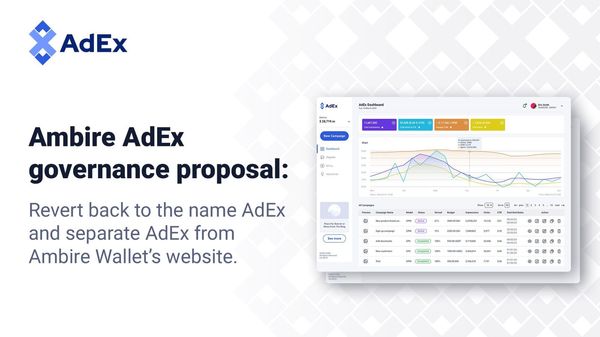 Starting on May 30, 2023 at 3:30 PM (UTC), Ambire AdEx initiates a governance vote that will run until June 13, 2023. In this voting period, ADX-Staking holders will have the opportunity to participate and cast their votes on the following proposal:

Revert back to the name AdEx and separate AdEx from Ambire Wallet's website.
What's the current state of Ambire AdEx?
In our 2023 roadmap, we shared the exciting news about Ambire AdEx's transformation from an ad network to an advertiser-centric programmatic platform, a.k.a. a demand-side platform (DSP). This strategic shift was driven by extensive planning and valuable feedback from our clients over the past two years. The AdEx DSP will concentrate on bridging the gap between Web3 advertisers and an untapped audience in the crypto space, aiming to facilitate the inclusion of the next billion users in the crypto community. While still in the early stages of platform development, we are thrilled to announce our initial collaborations with SSPs, marking an important milestone for us. These partnerships pave the way for our upcoming launch of the first test ad, which signifies significant progress in our journey.
Why is this change needed?
AdEx's name was changed back in 2021 when we were aiming at unifying the newly established Ambire Wallet and AdEx under the umbrella of the Ambire company.
However, Ambire Wallet and Ambire AdEx cater to distinct user bases, with the wallet focusing on DeFi enthusiasts and AdEx targeting marketing professionals. As a result, different user groups require tailored communication strategies. Housing both products under a single website and name leads to confusion among our audiences. Therefore, we recognize the need to establish separate platforms and brand identities to provide clarity and enhance the user experience for both Ambire Wallet and Ambire AdEx.
This is why we are proposing a separation of the two products onto distinct websites while reverting back to the name AdEx. We will, however, prominently showcase the connection with Ambire on the AdEx website by adding a tag "built by Ambire". This approach allows us to independently develop Ambire Wallet and AdEx, enabling each product to receive the dedicated attention it deserves without any distractions.
How to Vote
Any ADX-Staking token holder can participate in the governance vote.
The snapshot for the vote will be live from May 30, 2023, and will stay open until June 13, 2023, 3:30 PM UTC.
To participate in the voting process, simply connect the crypto-wallet that holds your ADX-Staking tokens. Your vote will be weighted proportionally based on the amount of staked ADX you hold compared to the total Staked ADX votes.
---
Interested in AdEx? Follow us:
Discord | Twitter | Reddit | GitHub | Facebook