The power of programmatic ads comes to Web3
AdEx clears your policy path so you can reach new audiences confidently and quickly
be the first to know about adex dsp's launch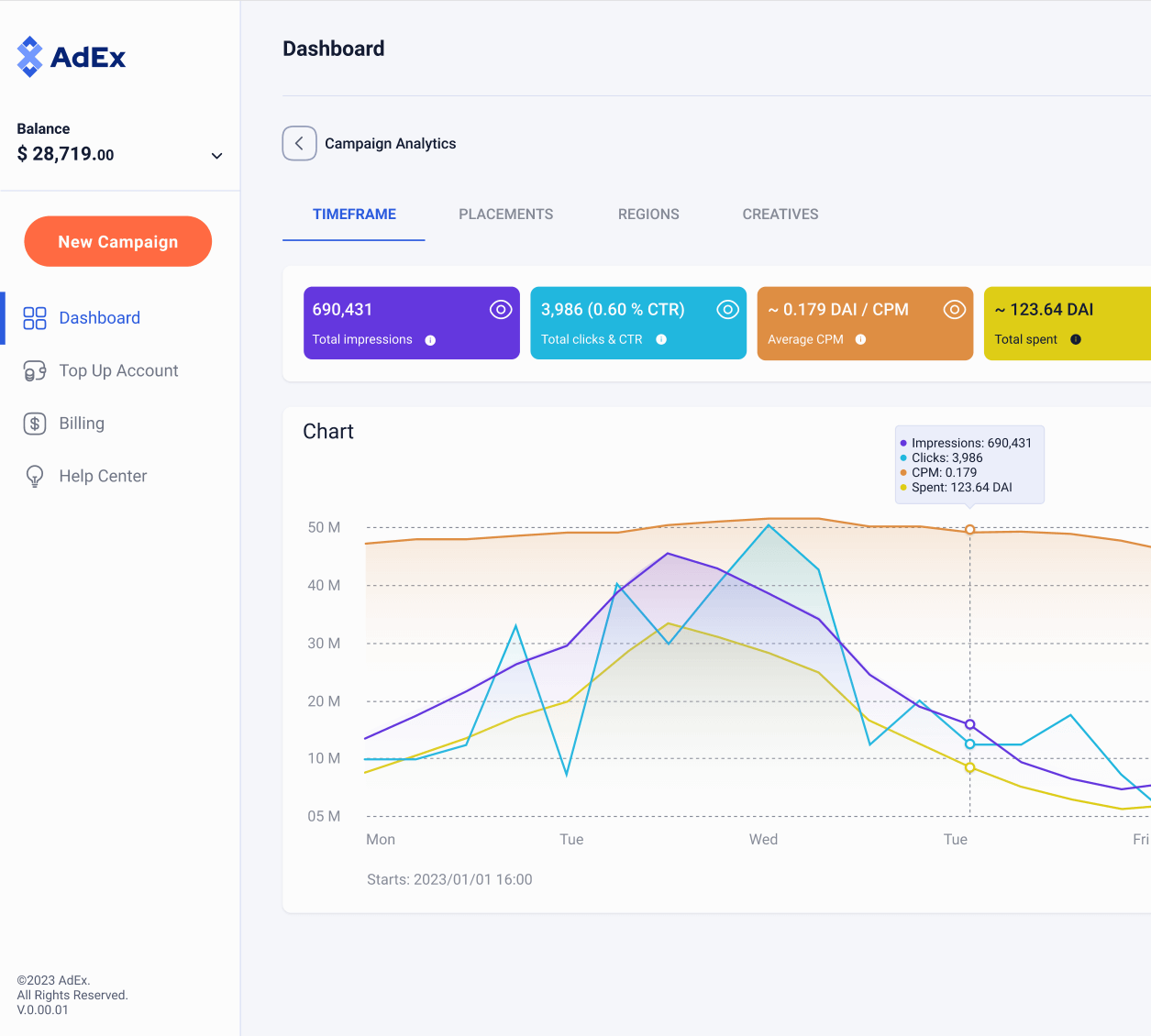 Reach over 200 million users
in over 150+ countries in a matter of minutes
Easy campaign start
Launch a campaign within minutes: deposit funds, upload creatives, select targeting options, and you are ready to go!
Self-serve platform
Maintain full control over your campaigns. If you need help, we are here to assist.
Ad fraud protection
Scale confidently, knowing your ad budget is efficiently utilized while AdEx's validation technology screens out bad actors.
Lower fees
Save big on fees, just 7%, when launching a campaign with stablecoins or just 4% in our native ADX token.
AdEx is purpose built for Web3
7% (4% if using ADX token)
Stablecoins (USDC, USDT, DAI), ADX, Fiat
Verified ad performance and traffic for greater transparency and fraud protection
Traditional ad networks
Varies, often restrictive
Typically higher than 15%
Low transparency typically leads to ad fraud
The technology behind AdEx DSP
Easy account creation
Setting up an AdEx account is a breeze with Ambire's SDK, which harnesses the power of account abstraction and smart contracts.
Secure and verified transactions
Once you set up a campaign, our in-house L2 technology (OUTPACE) assigns a network of trusted validators to authenticate every ad interaction.
Real-time auctions
We ensure an efficient and real-time ad bidding process for all AdEx users through our oRTB protocol integration.
Simplified campaign management
Our intuitive user interface lets you set up and manage your ad campaigns with ease. Fine-tune your campaign based on real-time insights.
Advanced campaign analytics
We track campaign interactions independently of third parties using AdView. This enables campaign optimization and ad fraud prevention.
Frequently asked questions
What types of ads can I run on AdEx?
With AdEx, advertisers can run programmatic display ads.
What payment models do you offer?
CPM, with plans to add CPC in the near future.
What payment options are available?
You can deposit fiat (USD, EUR, GBP, etc.) through the integrated crypto on-ramps or directly transfer one of the following tokens: ADX, UDSC, USDT, or DAI.
What is the minimum budget required to start a campaign?
The minimal campaign budget is $200.
How does AdEx ensure transparency and fraud protection?
AdEx uses its own Layer2 technology called AdView to collect campaign data, independently from 3rd parties and further verify transactions with the help of validators.
What are the supported ad formats?
Choose between 9 banner sizes on desktop and mobile. JPG and PNG formats are supported for your visuals.The supported formats are the following: 300х250, 728х90, 160х600, 300х600, 970х90, 468х60, 250х250, 320x50 and 300х50.
Be the first to know when we launch
Join the waiting list, and we'll let you know when the AdEx DSP is ready