AMA with AdEx's CEO | Part 1 — The AdEx Platform
This AMA session with AdEx's CEO, Ivo Georgiev, provides insights into the AdEx platform, its development, and its role in the advertising industry. It covers topics from the platform's performance to its future plans.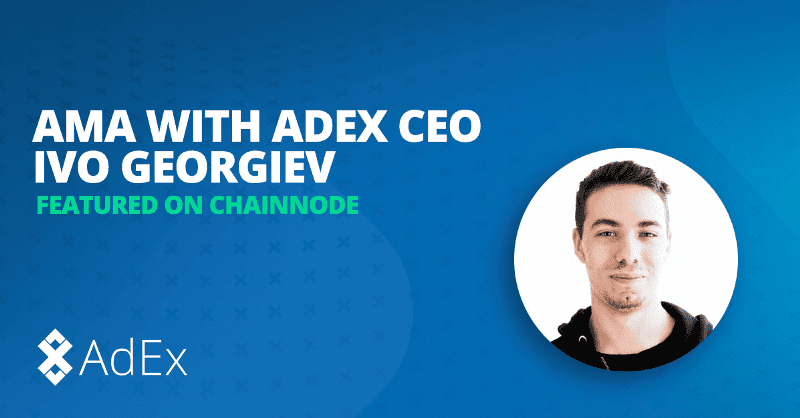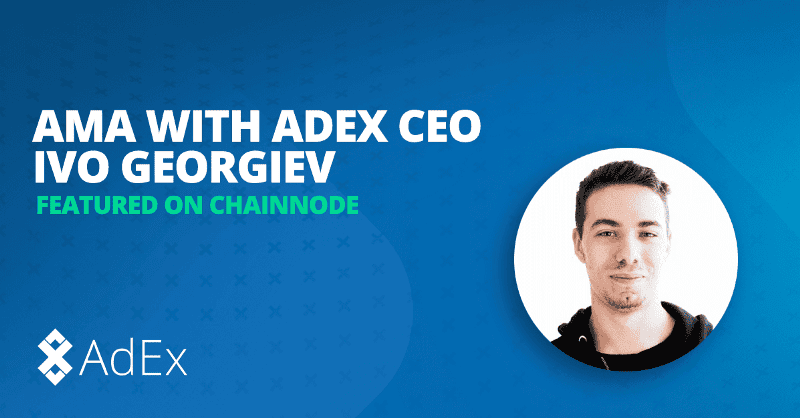 Our CEO Ivo Georgiev participated in an AMA on Chainnode. Here are the highlights.
In November our CEO Ivo Georgiev was invited by Chainnode, a respeced cryptocurrency media, to participate in an AMA session with their Chinese community. People were very excited and Mr. Georgiev got tons of questions — in fact, they were so good that we decided to share some of them with you on our blog. Over the whole session Ivo received more than 50 questions — we selected the most interesting ones and grouped them into three topics — The AdEx advertising platform, The AdEx Staking and Farming Portal and the Ethereum ecosystem.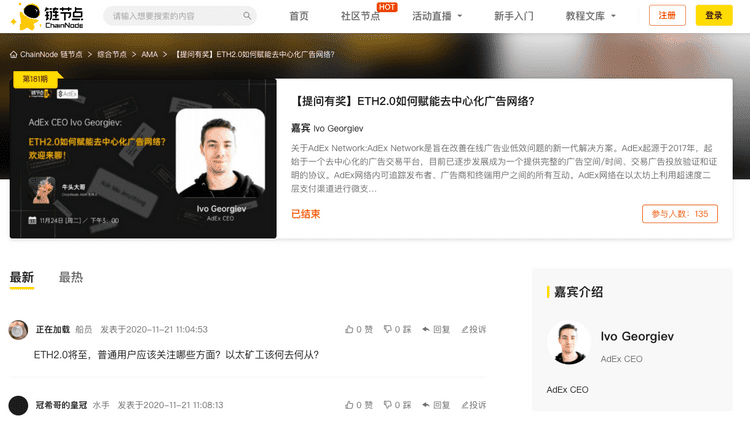 In the first blog post we are sharing with you the most interesting questions regarding the development of the AdEx Platform.
❓ The AdEx project has been developed for a long time. How is the progress so far? What is the source of funds to maintain the development and operation of the project?
👨🏻‍💻 The progress can be tracked on our website and our blog, but most importantly — everyone can register on our advertising platform and see how it works. The platform has been released for almost a year now and we already have more than 300 active publishers and advertisers generating more than 1 Million impressions daily. The source of funding is a crowdsale of ADX tokens in 2017.
❓ Can you introduce the background of theAdEx project parties? For example, where is the project base on (country or region), when did it established, what's team size, core members and their past experience?
👨🏻‍💻 You may read our whole story on our website. On our blog we keep all articles and development updates since day one. Otherwise we are a distributed team with headquarters in Sofia, Bulgaria and a legal entity registered in Estonia.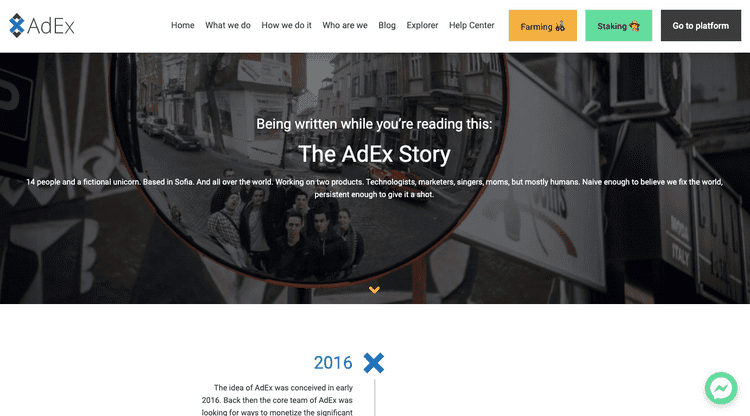 ❓ What are the disadvantages of the current advertising industry? What solutions can the blockchain technology bring to help AdEx compete with the Internet giants?
👨🏻‍💻 The current advertising industry has few common problems — lack of transparency and trust, ad fraud and user privacy. While many actors are working on improving those problems, there hasn't been a single solution to them all. While blockchain technology is no silver bullet, we believe it can pave the way to solving the inefficiencies of the ad industry. By using blockchain at AdEx: we reduce the need of many actors on the display ad chain; we improve transparency between advertisers and publishers by providing them with the same verifiable data; we try to mitigate ad fraud, by enabling advertisers to detect it early on and act accordingly.
❓ What is the difference between decentralized advertising and centralized advertising? Why the decentralization? Currently the most profitable area in the traditional advertising industry is channeling. Will AdEx Network, a channel provider, be able to break the current dilemma of channel monopoly? How can users profit from AdEx Network? How to improve the conversion rate?
👨🏻‍💻 We believe that by decentralizing some aspects of advertising like the access to ad data, we can improve trust and reduce ad fraud. AdEx Network alone probably can't break the programmatic monopoly of Google and Facebook, it would be naive to think so, but it can certainly bring a healthy alternative to the table and improve the competition landscape. Users can benefit from AdEx Network by optimizing their ad budgets or ad inventory and thus improve the quality of their advertising operations. Improving conversion rates is mainly a goal of advertisers and it's up to them to improve their messages and targeting. Network providers like AdEx just give them the right tools to do so.
❓ With regard to decentralized advertising, there were similar projects on Ethereum before, such as the decentralized BAT token, what comparative advantages do you have and what pain points can you solve? There are already a lot of independent token-related media companies, how do your project plan to grab a larger piece of pie in the market?
👨🏻‍💻 The BAT project has a different business model than AdEx Network. While BAT is B2B2C, AdEx Network is B2B. BAT is looking more towards incentivizing people to watch ads, while AdEx is trying to deliver a well working software for ads delivery. We believe that AdEx Network's platform is the best crypto display ad network up to date and we will continuously grow it and offer a decentralized and trustless alternative to traditional ad networks.
❓ To my understanding, as an advertising platform, your system needs high performance support in the future for the reason that you are like traffic connectors and need to carry a large number of user clicks, advertising settlement and other execution events. I also noticed that the public chain you use is Ethereum, so how do you provide adequate performance (TPS) support at the technical level?
👨🏻‍💻 We use our own in-house payment channel technology called OUTPACE which is similar to Lightning Network but better suited for our needs. It allows up to 7,000 TPS in its current configuration but it can scale infinitely. Currently AdEx Network is probably the largest Layer 2 project on Ethereum, processing more than 2 million transactions every day.
❓ Do all AdEx decentralized advertising businesses focus on digital advertising on the Internet? Are you also involved in advertising areas such as radio, television and other traditional media advertising and outdoor billboards etc.?
👨🏻‍💻 AdEx is mainly an open source protocol for the distribution of digital advertising, so if there is a case or demand, it can be adapted to different media than display advertising.
❓How does AdEx eliminate fraud, improve transparency and protect users' privacy in digital advertising?
👨🏻‍💻 We created the AdEx protocol as an open-source, transparent and fraud-proof alternative to traditional ad networks. By introducing real-time tracking and reporting directly accessible to each advertiser and publisher, and dropping the need for most intermediaries, we reduce the ability for anyone on the network to report wrong data and make advantage of unnecessary fees and fake traffic. We currently protect end users' privacy by simply not storing any data about them. AdEx relies on contextual advertising — publishers tagging their content alone and not tracking the behavior of website visitors by AdEx.
❓ Who are the target audience of AdExNetwork?
👨🏻‍💻 So far we've been working well with other crypto projects that need new marketing channels to spread their messages. Further to that, we are looking for "underserved" businesses that are censored on traditional networks — such as gambling and the adult entertainment industry. We've been working well with VPN providers.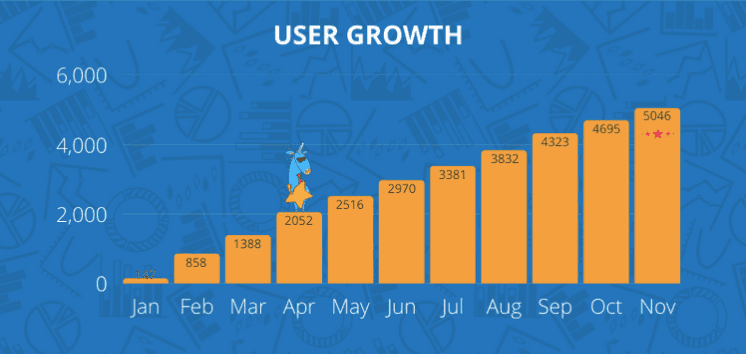 The AdEx platform reached more than 5,000 user registrations in November 2020, after launching back in January.
❓ I would like to ask Ivo, for the blockchain technology for advertising, what is the biggest advantage? How to distinguish between decentralized advertising and centralized advertising?
👨🏻‍💻 As we already mentioned, the advertising industry nowadays has a few common problems — lack of transparency and trust, ad fraud and user privacy. While many actors are working on improving those problems, there hasn't been a single solution to them all. By using blockchain at AdEx we reduce the need of many actors on the display ad chain; we improve transparency between advertisers and publishers by providing them with the same verifiable data; we try to mitigate ad fraud, by enabling advertisers to detect it early on and act accordingly. The difference between centralized and decentralized advertising is mainly in the distribution of information and payments. In centralized advertising, all information comes to a centralized body of the ad network and it is then being distributed, allowing for ad fraud and false reporting. Centralized ad networks also take custody of advertisers' and publishers' funds, while in a decentralized ad network like ours, funds flow straight between advertisers and publishers through payment channels.
❓ How do individual users benefit from theAdEx platform? What are the rewarding programs?
👨🏻‍💻 Individuals benefit from the AdEx platform by having their identity and private information harnessed, since AdEx Network doesn't collect users' data. In the future there is a possibility to test and integrate models similar to BAT, in which users get incentivized to watch ads, but this is only a suggestion for the moment, not something we are working on. On the other hand individuals can benefit from our Staking and Farming incentives.
❓ It is well known that online advertising is very unpopular with users. What measures does AdEx have to galvanize users acceptance of advertising? Will the end users be able to block advertisements?
👨🏻‍💻 End users are currently able to block ads served by AdEx, we don't fight ad blockers. However, AdEx as a display ad network can't change users' feelings for advertising, since we are an infrastructure provider and we are not responsible for the quality of ads alone. Anyway, we believe that by supplying advertisers and publishers with ad supply software protects user privacy, we'll help to alter users' attitude towards ads too in a more positive way.
❓ What is the current development progress of the project, what are the important milestones, and can you introduce the progress plan for the next few years? Thank you.
👨🏻‍💻 We regularly post development updates, transparency reports and technical roadmap to familiarize our supporters with our plans, you can check the latest one here and our latest staking roadmap update can be seen here.
---
👉 READY TO TRY OUR ADVERTISING PLATFORM? START HERE. 👈
---
Interested in AdEx? Follow us:
Discord | Twitter | Reddit | GitHub | Facebook