AdEx Wallet and the Next Frontier
This article introduces the AdEx Wallet and discusses our plans for the future. Learn about the innovations we're bringing to the AdEx platform.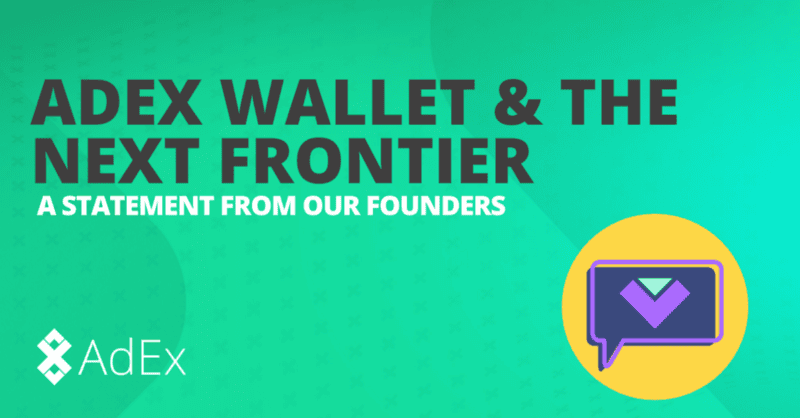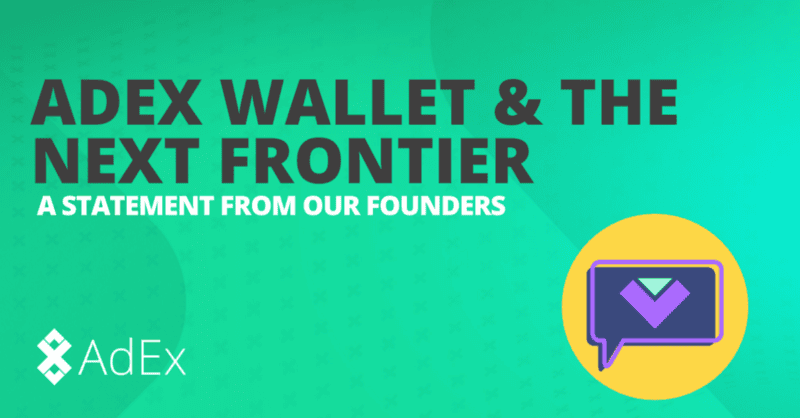 With the announcement of AdEx Wallet, we would like to share a few words about our company's direction
This past week, we announced the launch of a new product by AdEx Network: AdEx Wallet. The wallet is a revolutionary tool that lets people easily get into cryptocurrency and DeFi without having previous experience.
To us, this is a brand new direction. Up until now, we have been focusing on our advertising platform, on the economics of our native token ADX and on AdEx Staking. We will continue developing these products.
However, it's time to take a broader look at the AdEx ecosystem and find ways to grow it and expand into new horizons. Our user base, our community and our team have been growing sustainably. We now have the luxury to explore and create new opportunities to make our small AdEx universe — and the crypto world in general — better.
We are thrilled to embark on this journey and we're positive that we will deliver a product that will greatly help non-crypto people join the crypto revolution.
Why did we decide to create AdEx Wallet
Working on a blockchain product means that our entire team is very involved in everything crypto. We use various crypto and DeFi tools all the time. Even with our experience in the industry, we sometimes find ourselves struggling with suboptimal flows, designs and overall user experience. We also find the learning curve of keeping up with everything new is very demanding, and this is very discouraging for people who are not familiar with cryptocurrencies and blockchain.
We'd rather be a part of the solution and not part of the problem. That's why we decided to create a tool that is simple and intuitive, yet powerful enough to bring the most of DeFi to all crypto and non-crypto people.
We want everyone around the world to have equal and easy access to cryptocurrencies and to investments in DeFi. It is our mission not just to work on our own dapps but also to contribute to the entire blockchain ecosystem. This is why we are excited beyond words to create something as meaningful as AdEx Wallet.
We are going to stay focused
The AdEx advertising platform will remain a priority for us. We will continue improving it and growing its user base.
Staking will also remain in the limelight.
The AdEx Network team is small but very efficient. It is in our company DNA to prioritize, collaborate and outperform expectations. We will carry on working hard towards our end goal: creating a new, better and cleaner internet where people have financial freedom by using cryptocurrencies, where people are free of unnecessary censorship and where privacy is respected.
A few words about our roadmap
The launch of AdEx Wallet will inevitably cause some shifts in our roadmap. None of the things we have in the roadmap now will be cancelled — some of them may simply be pushed a bit further in time.
We will be expanding the team to be able to stay on track with the AdEx Platform roadmap so rest assured: no important features will be delayed.
Roadmaps are living things — they change and evolve as markets and technology change and evolve. A roadmap that remains static irrelevant of new developments, economical conditions, etc. is a roadmap doomed to lag behind.
We will be updating our roadmap as we go — simply follow us on social media or join our community chats to stay up to date with news about it.
And finally, a word from our founders
"The DeFi sector is developing so quickly that it presents new and exciting opportunities to us almost every day. We owe it to our community, users and supporter to always stay on top of the wave and deliver services that are relevant and bring value to the customers," said Ivo Georgiev, CEO and founder of AdEx Network.
"We are good at building blockchain and crypto products — and we are confident that AdEx Wallet will be a brilliant addition to our portfolio," added Dimo Stoyanov, COO and founder.
---
Interested in AdEx? Follow us:
Discord | Twitter | Reddit | GitHub | Facebook