We are teaming up with Enzyme Finance to Bring Advertising and DeFi Together
AdEx is partnering with Enzyme Finance, bringing together advertising and DeFi. This collaboration will make decentralized finance more accessible and promote our ad network to a wider audience.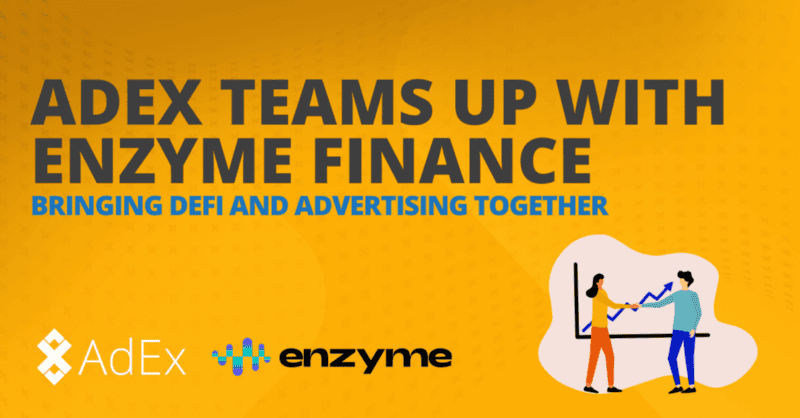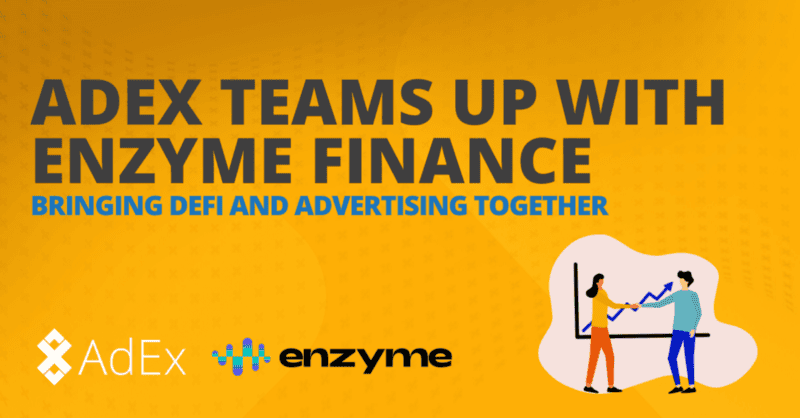 We are entering into a strategic partnership with Enzyme Finance
We are delighted to welcome the newest partner in the AdEx Network family: Enzyme Finance (formerly known as Melon Protocol).
This new alliance will nicely tie up the worlds of advertising and DeFi. We will collaborate with Enzyme in a few major directions to achieve shared goals and make decentralized finance more accessible while promoting our ad network.
First and foremost, we will implement the Enzyme protocol in the AdEx Wallet as soon as the wallet is released. As you may already know, the wallet will be plugged into a handful of selected DeFi protocols, and Enzyme will be one of them.
Anyone who signs up for the wallet will be able to benefit from preset digital asset management strategies created by Enzyme Finance. This way, AdEx wallet users will have the opportunity for optimal performance of their investments.
In fact, we will be using Enzyme's strategies ourselves as a company to enhance our treasury management.
Another line of collaboration will be Enzyme becoming an AdEx Network advertiser. They will use banner ads to reach a wider audience of potential clients and raise the level of their brand awareness among crypto and DeFi users.
Last but not least, AdEx and Enzyme will engage in cross-promotion to share our communities and client base.
"We have been following the development of Enzyme Finance for a few years now, and we are impressed with what they have achieved so far. We are thrilled to partner with them and expand our audiences as a testament to the versatility of real-world applications of blockchain," said Ivo Georgiev, CEO of AdEx Network.
"We are delighted to have AdEx as a partner. As the DeFi industry continues to make leaps and bounds in terms of product market fit, advertising is a natural next step for us. The key to working with AdEx is that they share our passion for innovation & transparency," added Mona El Isa, CEO of Enzyme Finance.
---
Interested in AdEx? Follow us:
Discord | Twitter | Reddit | GitHub | Facebook