ADX Token Upgrade: Time to Swap Your Tokens
The ADX token upgrade is here. If you hold legacy ADX tokens, you can now swap them for the new ADX tokens on our staking portal. This article provides a step-by-step guide on how to upgrade your tokens.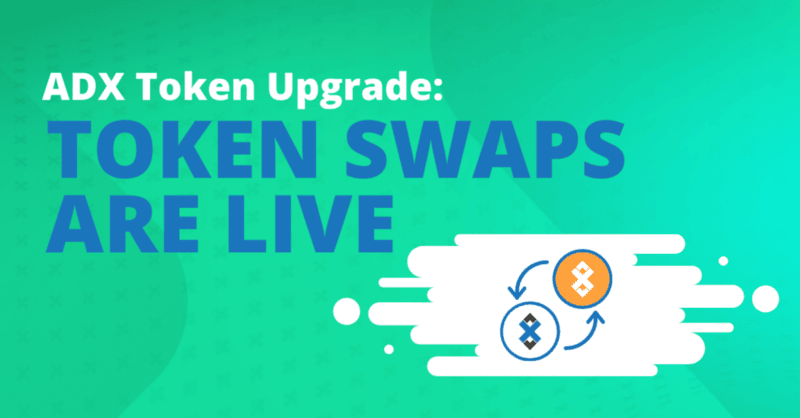 Token swaps for the legacy ADX tokens are available on our staking portal now.
As you know from the original announcement, we are in the process of upgrading the ADX token to add staking incentives and DeFi features. So far, we have successfully audited and deployed the new contracts, launched built-in flash loans and gained exchange support — and most importantly, announced the new token economics and incentivized staking.
Today, we have reached an important milestone — it's finally time to release our token upgrade tool and urge our community to upgrade their ADX to the new token, since exchanges will no longer accept the legacy ADX.
Exchanges support
To avoid confusion, we recommend you don't deposit your tokens to exchanges until all of them migrate to the new ADX and you've swapped your tokens through our official tool.
If your tokens are already on any of the exchanges mentioned below or staked on staking.adex.network, they have been automatically upgraded.
✅ ⚠️ Binance — migrating to the new ADX on the 21st of August (announcement)
✅ Upbit — already trading the new ADX (announcement)
✅ Bittrex — already trading the new ADX (announcement)
✅ Uniswap — already trading the new ADX
✅ 1inch.exchange — supports the new ADX
🚧 Huobi — currently implementing the new ADX
🚧 HitBTC — currently implementing the new ADX
If you have tokens on an exchange that isn't listed above or hasn't announced plans to support the new ADX, we recommend that you withdraw them to your own wallet and upgrade them.
How to upgrade?
First, you need the MetaMask browser extension and you need to hold your ADX on it. If you use a hardware wallet such as Trezor or Ledger, you can easily connect it to MetaMask (this doesn't export your private keys). If you use a keystore file (JSON), you can still import it.
Once you've got your ADX wallet set up with MetaMask, you have to go to staking.adex.network — you will be prompted to upgrade your legacy ADX (see image below).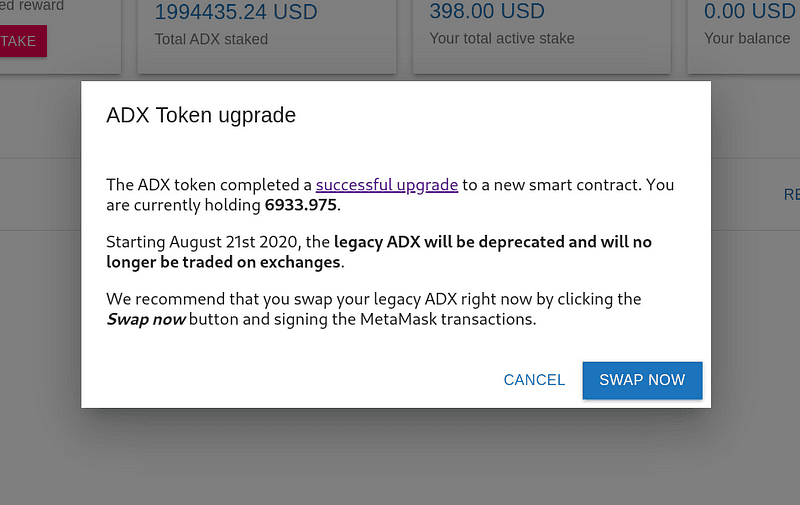 Just click "Swap now" and sign the pending MetaMask transactions. Once the transactions are confirmed on the Ethereum network, you're all set.
If you close the pop-up by mistake, you should simply reload the page and it will appear again. If you see no pop-up, make sure you have connected the correct Metamask address and that you have no active pop-up blocker.
OPTIONAL: After this, we recommend that you add the new ADX to MetaMask so that it shows in "Assets". Here's how to do it:
Go to "Assets."
Scroll to the bottom and click "Add Token"
Select "Custom Token" and enter 0xade00c28244d5ce17d72e40330b1c318cd12b7c3 — the two other fields (decimals and name) will fill up automatically.
Click on "Next" to finish the process.
How to find out whether I hold the new or the legacy ADX?
On Etherscan, the legacy token will show up with the name "AdEx", symbol ADX and token address 0x4470BB87d77b963A013DB939BE332f927f2b992e
On Etherscan, the new token will show up with the name "AdEx Network", symbol ADX and token address 0xADE00C28244d5CE17D72E40330B1c318cD12B7c3
---
Interested in AdEx? Follow us:
Discord | Twitter | Reddit | GitHub | Facebook