Token upgrade and DeFi features
AdEx has upgraded its token and introduced new DeFi features. This article explains these changes and how they will improve the AdEx ecosystem.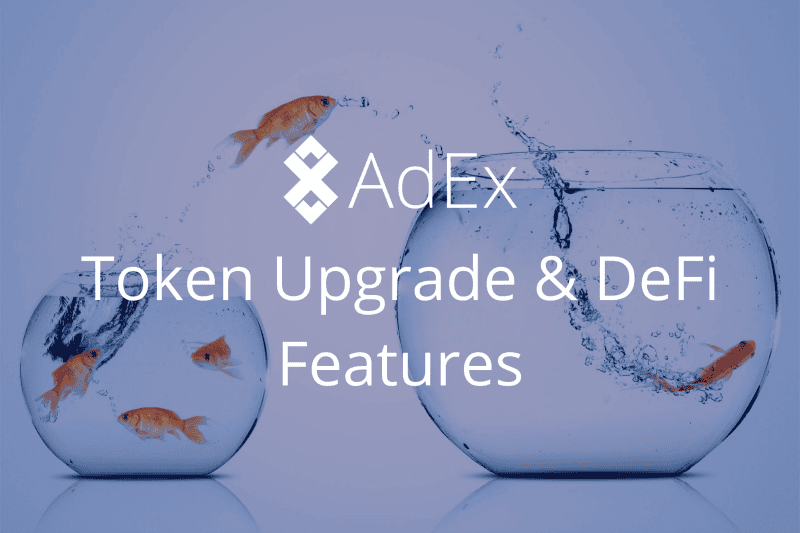 Our native ADX token is up for an upgrade, and will become the first ERC20 token with built-in flash loans
In the last year, the DeFi ecosystem has been exploding — we've seen incredible innovations such as flash loans and credit delegation, but arguably the most impactful one has been the yield farming trend started by Compound.
For the uninitiated, DeFi stands for decentralized finance — and it makes traditional financial operations like lending, borrowing and exchanging assets more transparent, permissionless and most importantly, composable.
We believe there's immense potential in this composability, as it allows other products, such as AdEx, to seamlessly leverage this ecosystem and provide loans, cheaper swapping between assets and other DeFi features to their users.
Our native token ADX is used to stake against the reputation/uptime of validators, which process micropayments in DAI. If you are not staking yet, you can start now (you can get ADX tokens on a number of different exchanges or at Uniswap for example).
To pave the way for ADX to integrate with the DeFi ecosystem, we have decided to perform a token upgrade that will introduce a few features, reduce gas costs and fix a few minor technical irregularities.
New features and fixes
Flash loans
The new ADX token will be the first ERC20 token with built-in flash loans. This means that the ADX token smart contract will allow anyone to borrow ADX as long as they return them by the end of the Ethereum transaction. We believe that this will empower new creative use cases of ADX, like automatic arbitrage across decentralized exchanges for easier trading.
ERC20 fixes
There are two minor ERC20 irregularities that we will fix:
totalSupply does not return the correct value
transfer does not return true upon success
While none of these irregularities affect security or usability, many DeFi projects require that this behavior is corrected.
Timeline and what to do
If you hold your ADX on a wallet, please wait for further instructions in one of our next updates. When the new contract is audited and deployed, you will be able to upgrade your tokens through our staking portal.
Please note that if you hold ADX on your own wallet, there won't be a deadline for upgrading your tokens. However, we recommend doing it as soon as possible as exchanges will stop accepting the old tokens.
If you hold your ADX on any of the following exchanges, they will be automatically migrated:
Binance
Bittrex
Huobi
HitBTC
If you're an exchange that has listed AdEx, please contact us at [email protected].
Timeline
August 6, 2020: Implementation and audits of the new contract
August 7, 2020: The new contract will be deployed
August 11, 2020: Finalized instructions of how to upgrade tokens
Further updates to be announced, follow us on social media to get the news straight away (links to social below).
---
Interested in AdEx? Follow us:
Discord | Twitter | Reddit | GitHub | Facebook