ADX Now Available for Staking on PancakeSwap
ADX tokens can now be staked on PancakeSwap. This article explains how this development expands the utility of ADX and provides a guide on how to participate.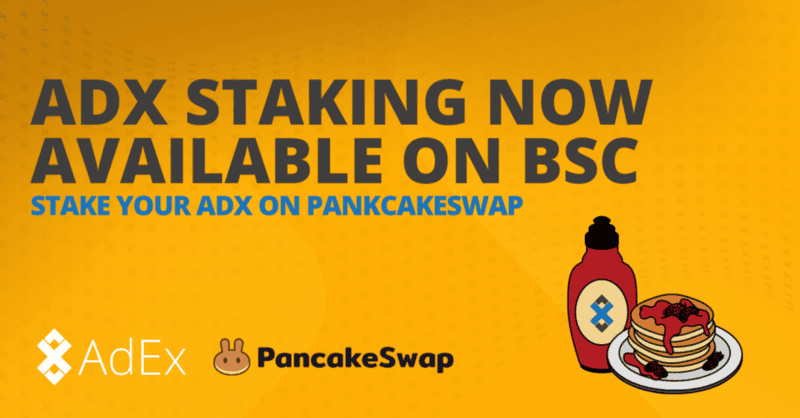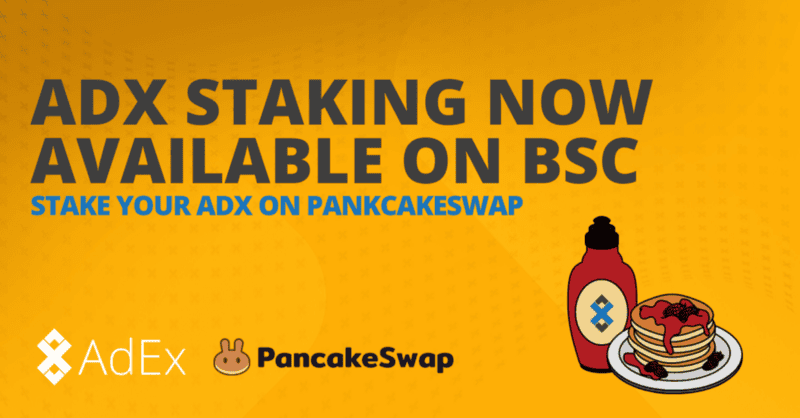 You can now stake ADX tokens on Binance Smart Chain
When our community speaks, we listen. One of things that our fans request the most is staking on Binance Smart Chain (BSC).
As usual, we delivered: We are teaming up with PancakeSwap to deliver an ADX Syrup Pool on PancakeSwap for all CAKE holders!
What are Syrup Pools
Syrup Pools are staking pools on the PancakeSwap DEX. On them, holders can stake CAKE to earn tokens rewards — as simple as that. Some special pools let you stake other tokens besides CAKE, too. In the case of AdEx, you will be able to participate in an ADX-BUSD farm to earn CAKE tokens.
The ADX Syrup Pool
This is the pool where you stake your CAKE tokens to earn ADX (the BEP20 kind). Here is all you need to know about the pool:
Total Tokens: 1,300,000 ADX
Distribution duration: 60 days
Start block: 8715300 (approx. 9am UTC on June 29th)
Finish block: 10443300 (approx. 9am UTC on August 28th)
Token rewards per block: 0.7523 ADX
Max stake per wallet: 100 CAKE for the first 48 hours, then unlimited CAKE staking afterwards.
To give as many CAKE holders the opportunity to Farm some juicy pool rewards at a high APY, this Syrup Pool will have a 100 CAKE token cap staking limit per user for the first 48 hours.
The Farm
In order to host the ADX Syrup Pool, we will need to provide an ADX-BUSD farm that will have 1x CAKE rewards for the first 48 hours and then 0.5x CAKE rewards after that.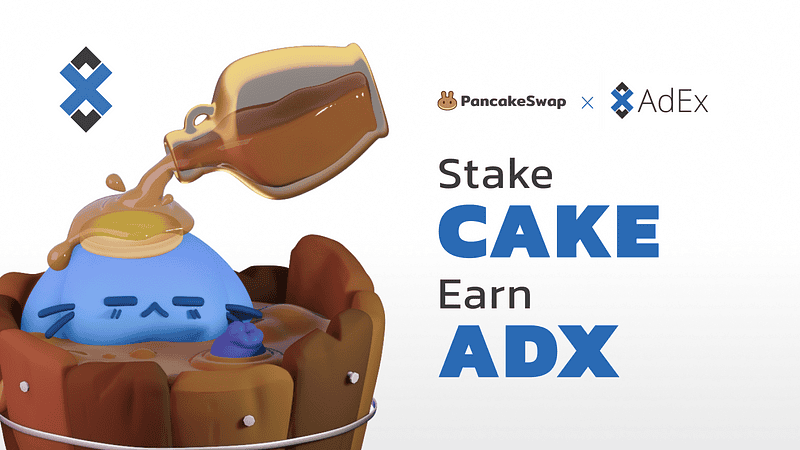 How do you stake CAKE to earn ADX rewards?
If you own CAKE tokens, congratulations! You're the master of your … pancakes. Time to step up your taste buds by learning how to stake CAKE with Syrup Pool.
Here's what you need to do in a nutshell:
Click "Approve CAKE" on the ADX Syrup Pool.
Click on the stake button.
Confirm the transaction.
The chefs at PancakeSwap have also prepared a more detailed step-by-step guide on using Syrup Pools, make sure to check it out: How to Stake in Syrup Pools.
BEP20 ADX will also be circulating and transferable on BSC when we start the Syrup pool, so you will be able to harvest your ADX tokens and trade on PancakeSwap at any time!
Beware of food poisoning & stay safe
The official ADX token contract address on Binance Smart Chain is this one:
https://bscscan.com/address/0x6bff4fb161347ad7de4a625ae5aa3a1ca7077819
Any other ADX token is a scam and will result in a financial loss for users. Do not buy tokens from any other token address. Always verify the token address before purchasing tokens. If you receive airdrops from another address for ADX tokens, they will be rotten tokens (but not the cool kind!), and we advise you to ignore them.
To learn more about PancakeSwap, follow their official channels:
Where else can you stake ADX
Of course, ADX remains available for staking on Ethereum, too. To stake your ERC-20 tokens, simply head over to the AdEx Staking Portal, connect your wallet and follow the instructions.
---
Interested in AdEx? Follow us:
Discord | Twitter | Reddit | GitHub | Facebook