ADX Now Available on Binance Smart Chain (BSC) and PancakeSwap
ADX tokens are now available on Binance Smart Chain and PancakeSwap. This article explains how this development expands the utility of ADX and its role in the DeFi ecosystem.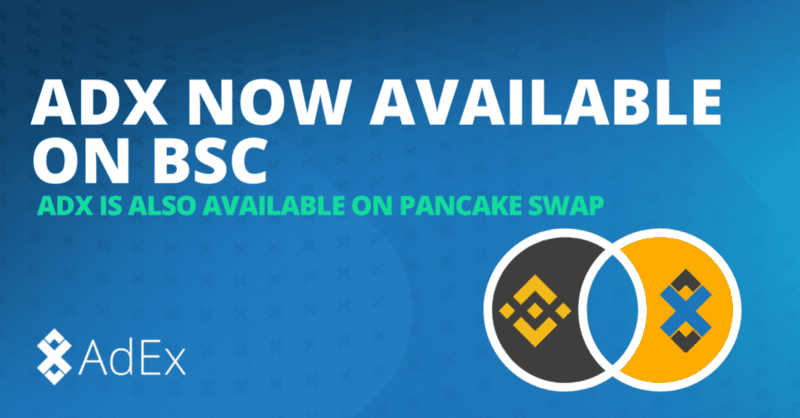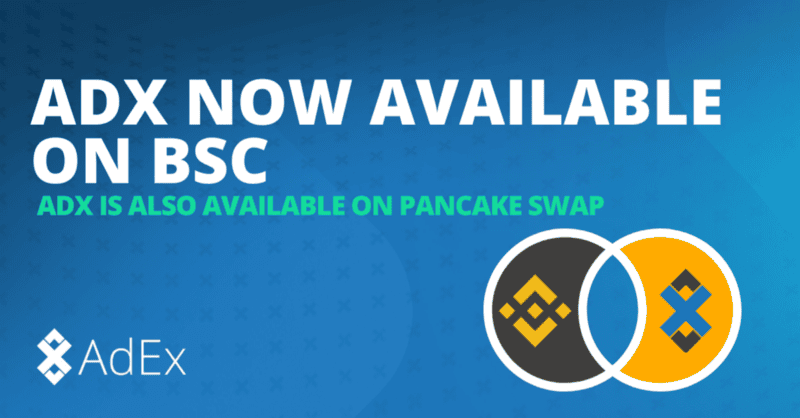 We are happy to announce that our native ADX token is now available on Binance Smart Chain (BSC) and on PancakeSwap. This is coming as a result of community demand combined with our strive to be blockchain agnostic and DeFi-friendly.
BSC is a good way to temporarily circumvent some of the issues Ethereum has been struggling with lately — lack of scalability, increasing transaction fees that make it almost unusable, network congestions, etc. A lot of Ethereum dapps have their equivalents on BSC, making it an important part of the vibrant DeFi ecosystem we see blossoming in front of our eyes — and all this at significantly lowered fees.
This is why we are glad to offer our community access to wrapped ADX as a convenient way to participate in the BSC DeFi ecosystem.
To transfer ADX to the BSC, you just need to withdraw through Binance. Both the Ethereum and the BSC versions of ADX are supported on Binance for withdrawal/deposit.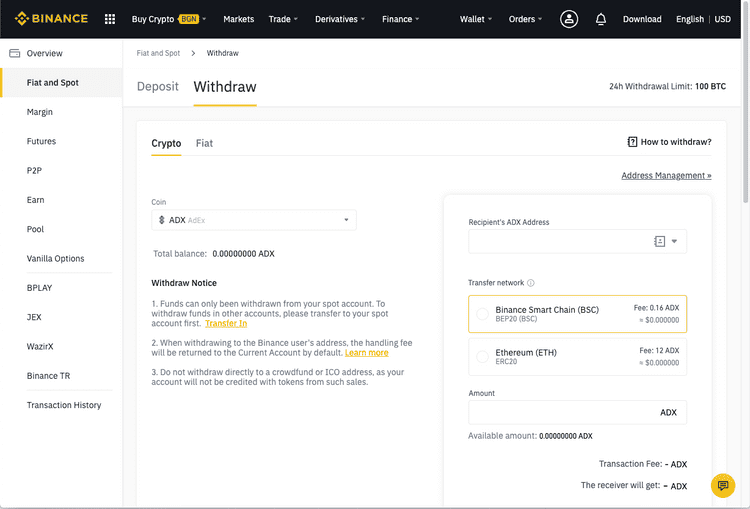 What is Binance Smart Chain
Binance Smart Chain is a blockchain environment for creating decentralized applications. It is essentially a fork of Ethereum but it was created with built-in compatibility with Binance Chain. The consensus mechanism of BSC is PoA (proof of authority), and the tokens on it follow the BEP-20 standard.
What's important to note is that a lot of novice users confuse Binance Chain and Binance Smart Chain but it's important to know that these are two separate blockchains that run parallel to each other.
PancakeSwap Listing: ADX/USDT
We mentioned that most Ethereum dapps have their BSC counterparts. One such example is PancakeSwap — a BSC equivalent of Uniswap. This is an automated market maker (AMM) where you can exchange the wrapped ADX tokens or provide liquidity for them.
We are happy to announce that ADX has been listed on PancakeSwap, against USDT!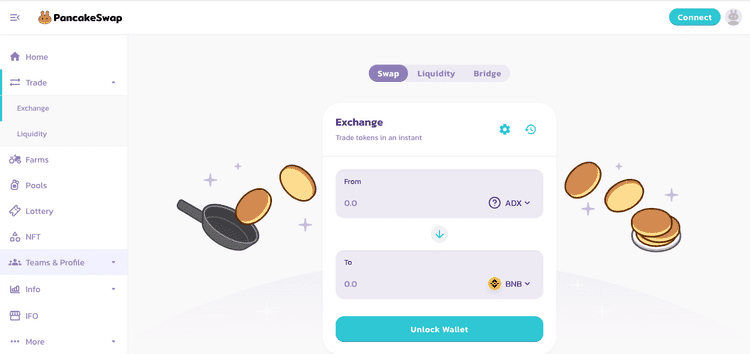 And the address of the pair itself: https://bscscan.com/address/0x090c410a2e337ef3f6407c2c928eb85246443701
What else can you do with wrapped ADX
On BSC, you can do basically everything you can do with the regular ADX on various Ethereum dapps and DeFi platforms. You can trade it on exchanges like BurgerSwap or BakerySwap, send it to other people, keep it in a wallet like Metamask or Trezor, etc. The main difference is that whatever you do on BSC, it will cost you a lot less in fees.
Keep in mind that some Ethereum dapps such as the AdEx Staking portal do not have BSC equivalents.
BSC vs. Ethereum
BSC is based on Ethereum's code (namely go-ethereum, a.k.a. geth), and it runs a different consensus mechanism than the Ethereum mainnet. The combination of a fresh state chain plus a consensus mechanism with a low number of validators provides a solution to Ethereum's high gas fees, but it should be noted that it's a compromise that involves a higher degree of centralization. Also, because the blockchain state size increases over time, it's bound to run into congestion issues as well if the network doesn't evolve beyond what it is now.
We do think that the existence of the BSC is greatly beneficial to the DeFi ecosystem, as it increases the accessibility of most dapps due to the lowered fees.
What's important to remember
Whenever you're handling your ADX tokens, make sure to distinguish the Ethereum ones (these are ERC-20) tokens from the wrapped ADX on BSC (BEP-20 tokens). While these are pegged to each other and hold the same value, they remain different tokens with different contract addresses.
---
Interested in AdEx? Follow us:
Discord | Twitter | Reddit | GitHub | Facebook