AdEx Rebranded: Fresh New Look, Dedicated Website!
We are proud to announce that the new AdEx dedicated website is here: with a new logo and a fresh look! Check it out now.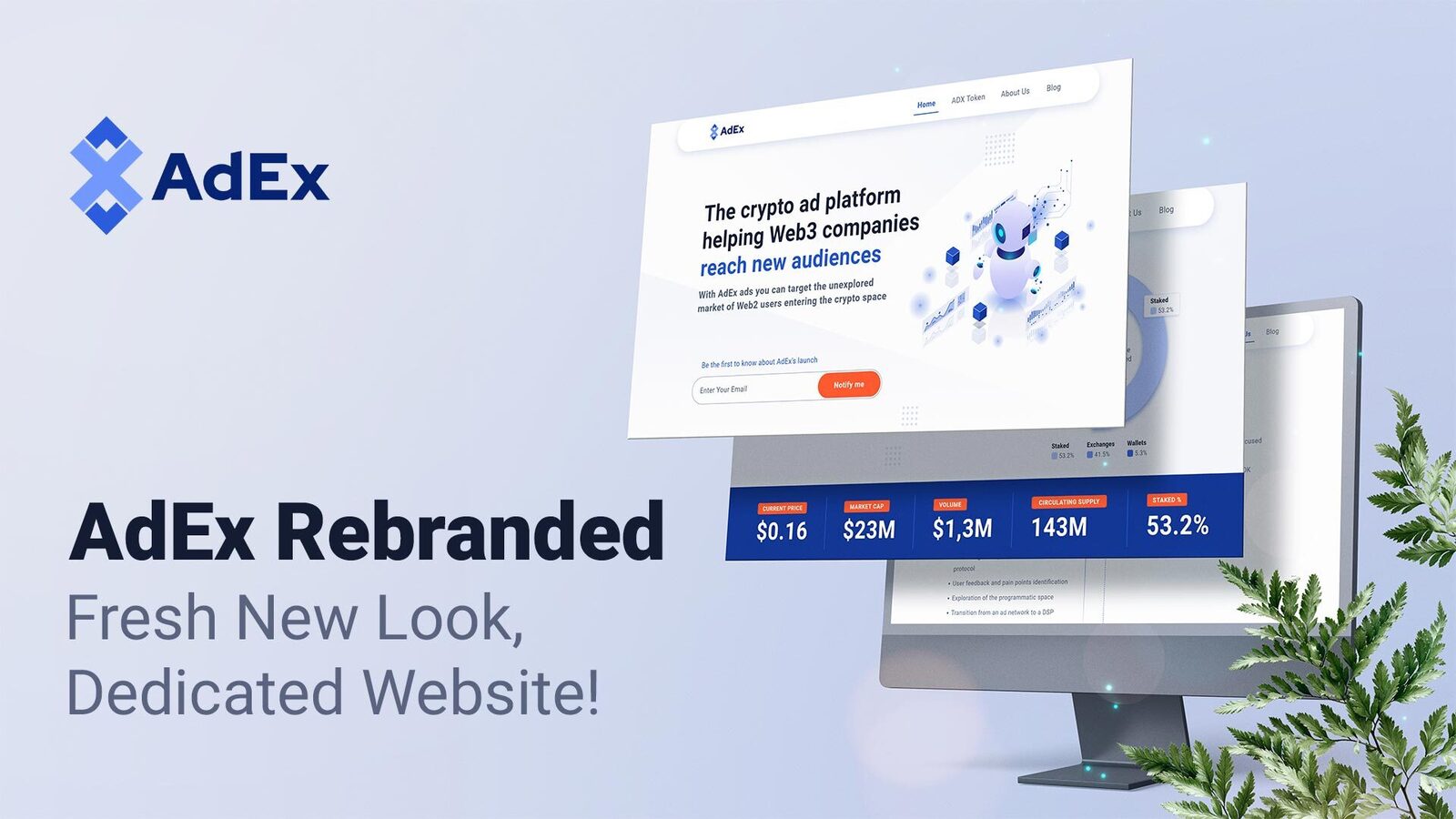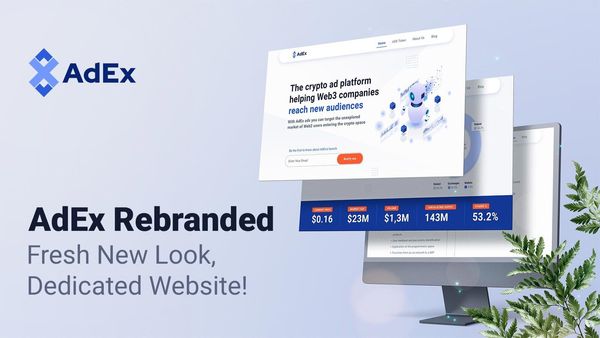 We're thrilled to share a major milestone in our journey - the official rebranding of AdEx and its separation from Ambire Wallet. We have now launched a dedicated website exclusively for AdEx, marking an exciting chapter in our evolution. This strategic decision comes as a result of a governance vote held back in May 2023, during which our community voted to separate the two products to better address the distinct needs of each user base.
Why did we separate Ambire Wallet and AdEx?
As many of you may know, back in 2021, we united Ambire Wallet and AdEx under the umbrella of the Ambire company. At the time, this alignment seemed like a cohesive approach for our growing brand. However, as both Ambire Wallet and AdEx evolved and expanded, we realized the importance of tailoring our communication strategies to cater to two very distinct user bases.
Ambire Wallet and AdEx accommodate diverse audiences, with the former focusing on DeFi enthusiasts and the latter targeting marketing professionals seeking innovative advertising solutions. Recognizing these distinct user groups, we acknowledged that combining both products under a single website and name was leading to confusion among our audiences and imposed limitations on our marketing efforts.
What's new?
From a fresh new logo and revamped name to a redesigned website and a bundle of innovative functionalities coming in AdEx v5 - we've got it all! A complete transformation is in motion as we align AdEx with our new objectives and embark on a journey to improve the platform, with this new website look as the first step.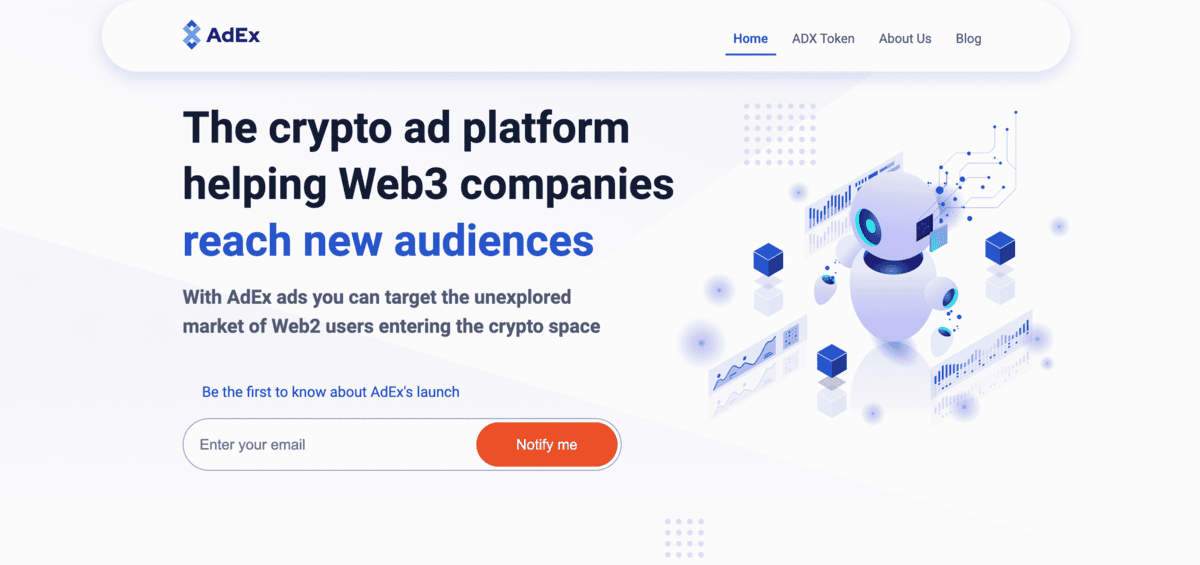 The most significant transformation lies in how the AdEx v5 platform will operate. As previously revealed, we are evolving into a Demand-Side platform with a steadfast commitment to advertising. Our vision is to synergize blockchain technology and programmatic advertising, delivering a top-notch, ad-fraud-protected advertising experience. This move represents a pivotal step forward in our pursuit of providing the highest quality service to our users and enhancing the advertising landscape with cutting-edge solutions.
What would the connection between Ambire Wallet and AdEx be?
The team behind both products will continue to remain unchanged, ensuring the seamless sharing of the extensive expertise accumulated over the years. This shared knowledge is crucial for navigating the ever-evolving Web3 landscape and crafting high-quality products that meet the needs of our users.
Moreover, the technology powering our two products will be intertwined, with Ambire Wallet serving as the foundation for every AdEx account. This integration enables AdEx users to leverage the full advantages of account abstraction and blockchain technology. As a result, Ambire Wallet and AdEx will maintain their interconnection, allowing them to harness the maximum benefits from both technologies.
Additionally, AdEx users with a keen interest in staking and validators will be encouraged to utilize Ambire Wallet for a smooth and seamless experience. We recognize the similarities between these two user groups and those of Ambire Wallet, and our aim is to provide them with the utmost convenience and satisfaction by leveraging the products within our ecosystem.
Although AdEx is stepping forward with its individual identity, we want to emphasize our connection with Ambire Wallet, and we will prominently showcase our relationship by adding a tag that proudly states, "built by Ambire" on the AdEx website.
What's coming next?
Exciting times lie ahead for AdEx as we continue our journey of growth and innovation! We've taken significant steps forward, starting with the integration of our first SSP (Supply-Side Platform). Currently, we're engaged in rigorous testing, fine-tuning the placement of ads, optimizing the process, and gathering valuable data. Our dedicated efforts are aimed at uncovering the perfect synergy between our powerful blockchain technology and the dynamic programmatic realm.
With a clear vision in mind, our mission is to craft a truly distinctive and efficient product. We strive to redefine the landscape of Web3 advertising, elevating it to new heights. By leveraging the strengths of both blockchain technology and programmatic advertising, we are determined to create a product that sets new standards in the industry. The journey is thrilling, and we eagerly look forward to the outcomes that await us as we march toward the future of Web3 advertising.
---
​​Interested in AdEx? Follow us:
Twitter | Reddit | Facebook | GitHub | Discord