Launching AdEx Governance: The First Proposal Is Now Live
AdEx has launched its decentralized governance system, enabling ADX token holders to participate in key decisions.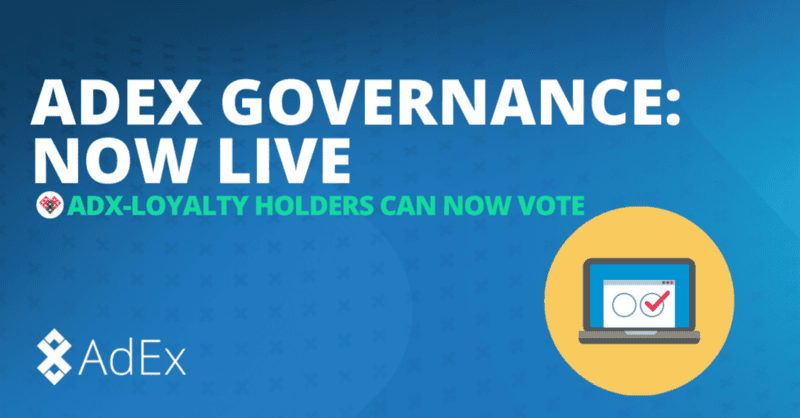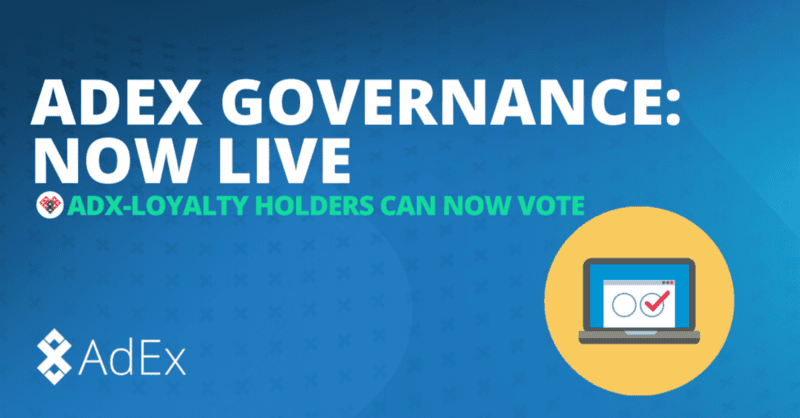 We've reached a big milestone: our decentralized governance system that lets ADX token holders to participate in important decisions for our future.
At AdEx Network, we're committed to building the future of advertising: over the last couple of years, we've gone to market with the first ad network where payments are decentralized, running on Ethereum payment channels.
Today, we've reached a new milestone in our development — officially unveiling our decentralized governance system, which enables our community and ADX token holders to participate in important decisions for our future.
It's based on Snapshot, a novel off-chain gasless governance portal, and it's using our new governance token, ADX-LOYALTY, which is minted by participating in the loyalty pool.
The first proposal: Deciding the ADX incentive for the Tom pool
The first proposal is about the ADX incentives for the Tom pool — and more specifically the amount of ADX to be distributed to stakers during 2021.
Back in August, we announced new ADX incentives for the Tom pool; these have massively improved ADX tokenomics. To date, nearly 4 million ADX rewards have been distributed and close to 29 million ADX have been staked, resulting in around 25 million ADX being removed from the market.
We've also been able to sustain a ~50% APY despite the end of the farming craze.
Given the success of these incentives, it's only logical to continue in 2021. We've created a proposal to determine the exact amount, given the tradeoffs.
The proposal can be found here: 🗳 Tom pool: what should the ADX incentive be in 2021.
What can community members vote on?
Our governance mechanism can be used for various things. For example, to change the staking pool parameters, such as loyalty pool price-issuance steps, Validator-Tom pool staking incentives, publisher and advertiser incentives, etc.. Another example is changing protocol parameters: minimum validator fees, maximum earners from a payment channel (campaign), and so on.
Furthermore, proposals may be submitted for development grants or other ecosystem grants — keep in mind, anyone can submit a proposal, so feel free to do so for any significant improvement suggestion you may have!
How to get ADX-LOYALTY
As we mentioned, you can only vote if you hold ADX-LOYALTY tokens. The loyalty pool is limited to 25 million ADX staked and works on a first-come, first-served basis. Currently, over 16 million tokens are already staked in that pool already.
You get ADX-LOYALTY by staking ADX in the loyalty pool on our portal. To obtain ADX, you can use multiple exchanges such as Binance, Upbit, Uniswap, Balancer and others.
To verify if you have ADX-LOYALTY, go to Etherscan and check your address, it should show under your token balances. You can also make it show in Metamask by using "Add custom token". The token contract address is 0xd9A4cB9dc9296e111c66dFACAb8Be034EE2E1c2C.
After you're done, you can simply go to snapshot.page and vote on any of the proposals or submit your own.
Are there incentives for voting?
Yes! Just by holding ADX-LOYALTY, you incur an interest in ADX based on the current price, as specified by a Chainlink oracle — a concept we've dubbed "elastic issuance" — you can read more about it in the original announcement.
Keep in mind that for your vote to count, you have to keep your ADX-LOYALTY in your wallet until the snapshot block of the given proposal.
Are proposals binding?
At this stage, proposals are not binding unless specified otherwise, but we intend to stick by the outcomes of the proposals submitted by us unless there are unforeseen reasons not do so.
In the future, we'll transition towards binding proposals, using Aragon's optimistic DAOs that will work seamlessly with Snapshot.
---
Interested in AdEx? Follow us:
Discord | Twitter | Reddit | GitHub | Facebook