ADX Now Available for Borrowing and Lending on Yield Credit
ADX tokens can now be borrowed and lent on Yield Credit. This article explains how this development expands the utility of ADX.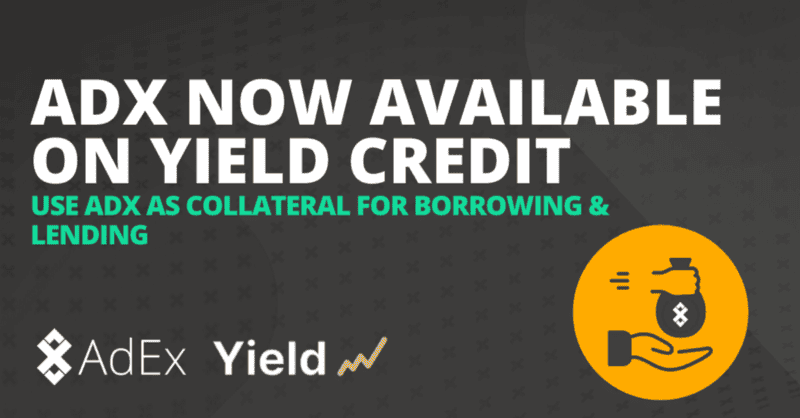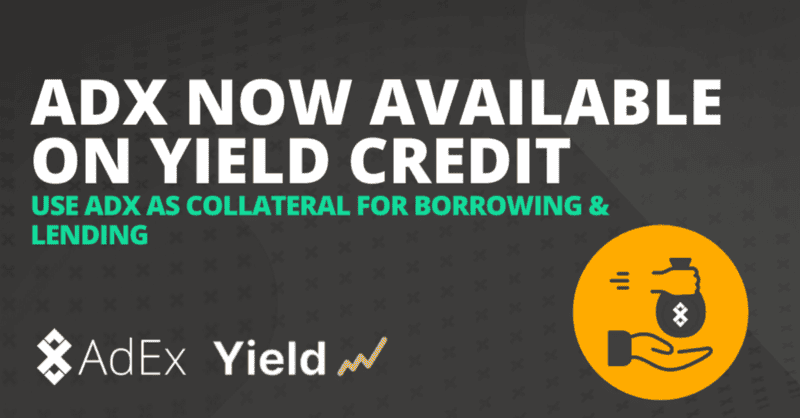 Our native token ADX can now be used for borrowing and lending on Yield
We are happy to announce that ADX is the newest asset listed as collateral on the Yield Credit DeFi platform.
Yield Credit is an individualized on-chain lending platform that utilizes borrowing and lending of crypto assets for a short period of time (between 10 and 60 days). The loan principles are determined by lenders and borrowers, and can range between $1,000 to $50,000. Interest rates, also set by the platform users, vary between 2% and 12.5%
Yield users can choose between 5 stablecoins (DAI, USDT, USDC, SUSD and TUSD), wrapped ETH and a selection of handpicked tokens like LINK, WBTC, SUSHI, etc. and now — ADX.
What is the benefit of having ADX on Yield
Being able to use ADX as collateral on Yield credit means that token holders can easily obtain liquidity without compromising their ADX positions. Once ADX loans are repaid, they get their collateral back.
Borrowers, on the other hand, can use Yield Credit to avoid sell pressure.
How to borrow and lend ADX on Yield
The process of using Yield is very user-friendly. Here are the steps to follow:
Go to http://yield.credit and click on Launch App.
Click on the human icon in the top right corner and connect your wallet.
Click on the little chart icon in the middle at the bottom of the screen.
Select if you want to borrow or lend, then click on the "+" icon in the bottom right corner.
Select ADX from the list of tokens.
Customize your loan by setting your interest rate, period, amount and collateral (if you're borrowing).
Click on "Create".
And that's it — simple!
---
Interested in AdEx? Follow us:
Discord | Twitter | Reddit | GitHub | Facebook