AdEx Token Sale to Kick Off on June 30th
AdEx is launching its token sale on June 30th. This event offers an opportunity for participants to become part of the AdEx ecosystem and contribute to the development of the platform.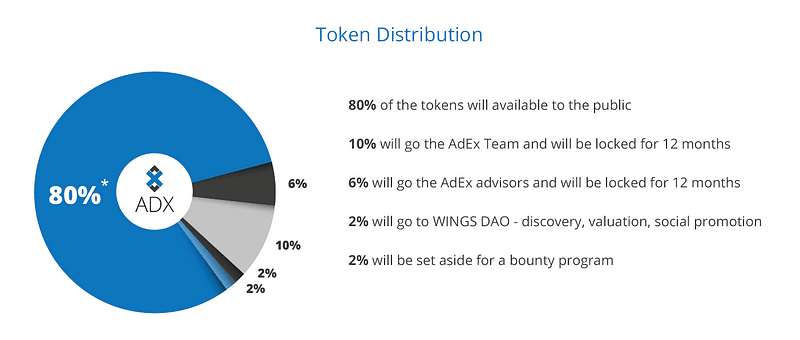 We're happy to announce that the sale of the ADX tokens is about to begin. In case you intend to join the campaign, this post will clarify the details of the token sale such as overall token supply, conditions, and so forth.
What is AdEx Network?
AdEx is a blockchain-based ad exchange that aims at offering an alternative to contemporary centralized solutions prone to ad frauds and privacy violations. With the use of blockchain technology and decentralization, AdEx seeks to solve today's digital marketing issues such as lack of transparency, user consent issues, problems with fraud and all other disadvantages deeply inherent in traditional online ad market.
With AdEx, publishers and advertisers will be able to avoid ad fraud and monetize their products better.
We have partnered with the Wings Foundation, which develops WINGS DAO, in order to efficiently price the AdEx token sale. Furthermore, AdEx Network is in partnership with BITMAIN, Fintech Blockchain Group and Stremio.
How Does It Work?
We will employ Ethereum smart contracts to ensure removal of intermediaries and to describe the very process of ad choosing and tracking, as well as bidding and payment.
The decentralized nature of Ethereum blockchain will ensure complete transparency of the entire system.
ADX tokens, on their part, will use the ERC20 protocol, which is a standard solution for smart contracts that employ tokens and ensures compatibility with other Ethereum-based solutions.
AdEx will be accessible via mobile and desktop applications and embedded devices, and can be integrated in websites via publisher-hosted endpoints.
For more details on AdEx, please check out our website — https://www.adex.network — there you can also access our whitepaper and social channels.
Token Sale Terms
The token sale campaign will last for a month, from June 30th to July 30th, 2017.
Overall, 100,000,000 tokens will be created and up to 80% of them will be allocated to be sold to the public.
Sixteen percent (16%) of the tokens will be reserved for the AdEx team and advisors; however, it should be noted that they will be vesting for one year to ensure development of our solution. The remaining four percent (4%) will be distributed between WINGS DAO and the bounty program for the community.
The exchange rate is as follows:
Regular: 1 ETH = 900 ADX.
First day bonus: 30% (1ETH = 1170 ADX)
First week bonus: 15% (1ETH = 1035 ADX)
The cap is set at 40,000 ETH. This is a hard cap — if it is reached, the token sale will end immediately and the tokens will be immediately transferrable after.
Because of the hard cap, not all tokens of the allocated 80% will be sold. the rest will be kept in a special AdEx Fund address, and vested fo4 24 months with a 6 month cliff. Those tokens will be used by the AdEx organization for allowing easy purchase of ADX within the AdEx dapps themselves, making the onboarding process easier for advertisers while AdEx is gaining popularity. This also allows for continued project funding, since the AdEx network does not take any fees or payment.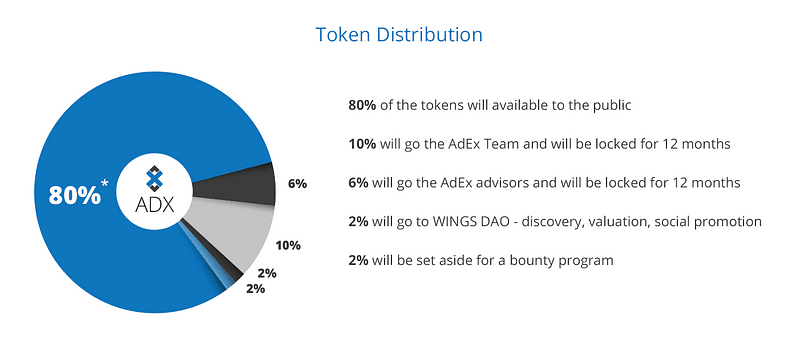 During the campaign, only ETH contributions will be accepted. The address for contributions will be specified at tokens.adex.network as soon as the token sale begins.
Pre-sale
We conducted a pre-sale to select partners. The amounts and bonuses will be be visible in the smart contract and multisig wallet, and entirely transparent. The pre-sale amount is limited and would not go over 15% of total tokens.
Future Developments
We are going to roll out the first AdEx prototype as early as February 2018. It will feature basic options like an ad bidding system, a front-end for advertisers and publishers, and an SDK for publishers. The prototype will be mainly working with native and display advertising. It will undergo independent security audit, and will be completely open-source.
By January 2019, the project will focus on heavy business development driven by the needs of the market and the feedback received from users and the community. Thanks to that, the prototype will receive major improvements, which includes user targeting and reporting as well as integration of SDK. Video advertising will also become available.
In January 2019, we plan to roll out what we call AdEx v.2. It will essentially be a technological revamp scaling the entire solution up, as by that stage there will be a critical mass of publishers and advertisers using the platform. AdEx v.2 will expand to other blockchains like aeternity or RSK.
We're looking forward to making it all possible, and bringing transparency and comfort to the online ad industry. Stay tuned!
---
Interested in AdEx? Follow us:
Discord | Twitter | Reddit | GitHub | Facebook