AdEx Teams Up with Web3 Foundation for a Collaboration
AdEx is collaborating with the Web3 Foundation, an organization dedicated to advancing the state of the blockchain and the decentralized web. This partnership aims to foster innovation and development in the blockchain space.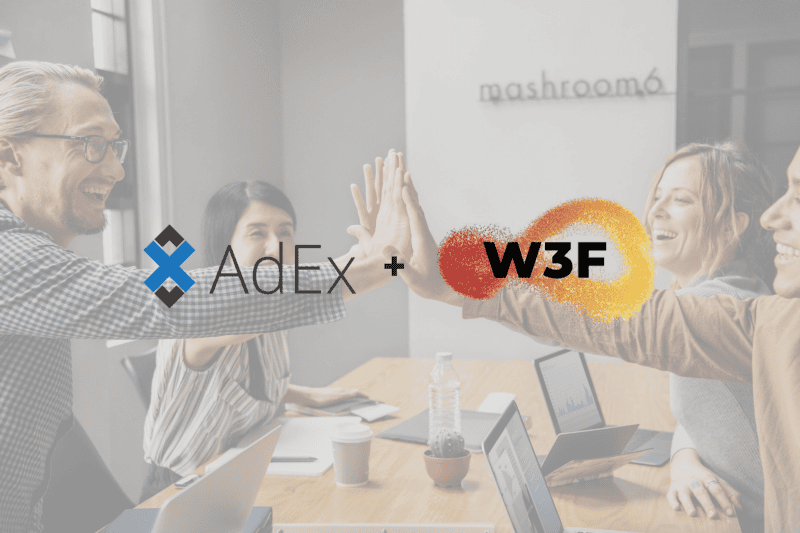 The AdEx Substrate implementation is now a fact and we are happy to collaborate with W3F
If you have been following this blog, you know that for a while now we have been exploring application-specific chains, and have been experimenting with Polkadot and Cosmos in particular.
We are happy to report that the Substrate implementation is now finished — and ahead of time. Getting it done took us way less time and effort than we initially estimated, and are quite content with the end result.
For those of you unfamiliar with Substrate, it is a development framework, which makes it incredibly easy to build blockchains; the framework is 100% open-source. For us, having a Substrate implementation, means greatly improved scalability, more flexibility and ultimately — an enhanced user experience.
This implementation will also include the AdEx Registry: a component designed to curate a high-quality list of public AdEx validators. It accomplishes this by requiring a ADX tokens to be staked as a warranty against potential misbehavior. We chose Polkadot and Substrate because the Registry needs to be able to sustain high transaction throughput in case of a challenge, and because of the upgradability and governance benefits of the Polkadot ecosystem.
"With proper documentation and usability improvements, the combination of Rust and Substrate could become the easiest, fastest and safest way to create pretty much any type of blockchain application," commented our CEO Ivo Georgiev.
The next steps would be to launch a testnet, and to work further on the implementation with tooling, JS libraries, CLI, etc. We are also hoping that we'll be able to provide the W3F team with valuable feedback, and we're looking forward to a long and successful collaboration.
Substrate Resources
About Web3 Foundation
The Web3 Foundation is a Swiss foundation fostering and shepherding the cryptographically-enabled protocols that safeguard decentralization and enable the vision of Web 3.0. The Web3 Foundation employs researchers who research novel cryptographic methods and funds teams developing bleeding-edge software protocols. W3F's primary project is the Polkadot project, but they also help set standards and help to organise teams, both online and offline, to better coordinate with each other and document progress, including workshops, meetups, and the annual Web3 Summit.
Learn more about Web3 Foundation by visiting their website. To learn more about Web3 Foundation's latest developments, join them on Reddit or Twitter.
---
Interested in AdEx? Follow us:
Discord | Twitter | Reddit | GitHub | Facebook