Ambire AdEx Governance Vote: New Stablecoins as Payment Options
Ambire AdEx is holding a governance vote to introduce new stablecoins (USDC, USDT, and BUSD) as payment options. This move, sparked by user demand, aims to increase platform flexibility and engagement.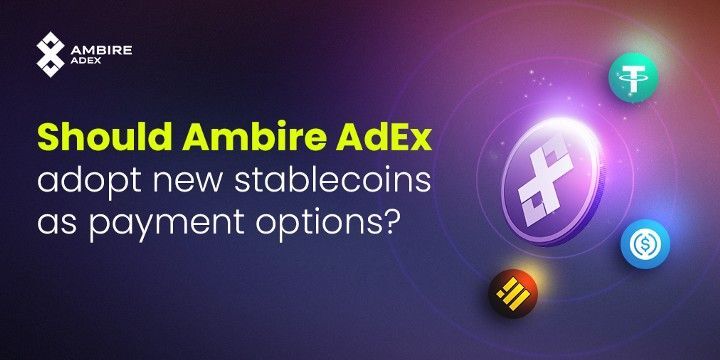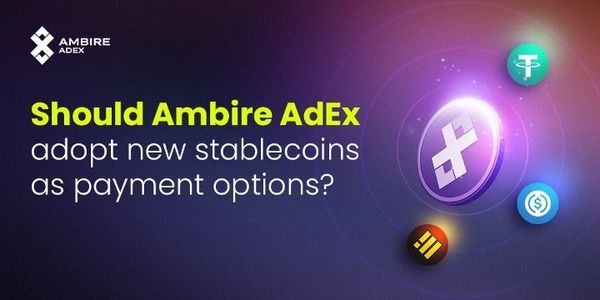 Community vote open for integrating USDC, UDST, BUSD as payment options on the AdEx Platform
Hey, Ambire fam 🫡
📯We've got news from the AdEx front: a governance vote proposes new stablecoins as payment options on the Ambire AdEx platform (namely USDC, USDT and BUSD).
The vote is open starting today and until the middle of November, for all holders of $ADX Staking tokens (ADX-STAKING).
Read on for more details ⬇️
💥What sparked the proposal?
Well… you did 😄
Ambire AdEx users and our community have been asking for more flexibility when it comes to payment options on the platform. That's why the proposal is to add the current top three crypto stablecoins — USDC, USDT and BUSD — as payment currencies on the AdEx platform (available payment option at the moment is DAI stablecoin).
Immediate advantage: having multiple payment options means more people and entities can engage with the platform (blockchain agnostic)
Long-term advantage: in the booming Web3 landscape, a content/data exchange platform like Ambire AdEx (based on smart contracts) can have multiple user- and business-cases, integrating on a market that is finally ripe for it 🚀
🗳How to Vote
That's simple 👉 If you're an ADX-Staking token holder, you can participate in the governance vote.
The snapshot for the vote is live starting today and stays open until the 16th of November, 12 PM UTC.
To vote, you only need to connect the crypto-wallet where you hold your ADX staking tokens and choose — your answer will weigh proportionally to how much staked ADX you hold vs. the total Staked ADX votes.
You can vote here.
➡️ What's next after the vote?
The proposal has 3 choices: along with Yes/No, there is also "Not the ones in this list", meaning the voter would prefer to feature payment with different tokens. If the majority of votes goes towards this option, it will make way for a new governance vote ( current options/combination are rejected).
If the proposal is confirmed through governance voting, the Ambire dev team will work their magic with the new payment options 🪄 and we'll share on our socials when ready ☑️
Meanwhile, you can join us on Discord for a chat about the vote and see what else we're cookin' on the Ambire 🔥
---
Interested in AdEx? Follow us:
Discord | Twitter | Reddit | GitHub | Facebook