AdEx Governance Vote: Halving Staking Rewards
AdEx is holding a governance vote on halving ADX staking rewards. This decision could extend the staking period and impact the ADX price stability. Learn about the vote and its implications for our platform.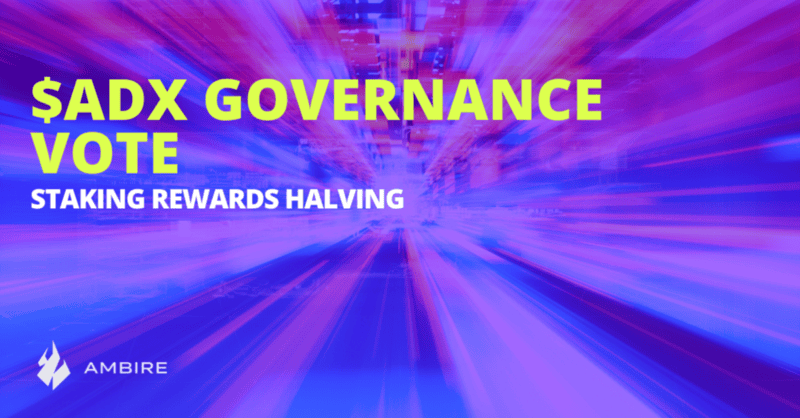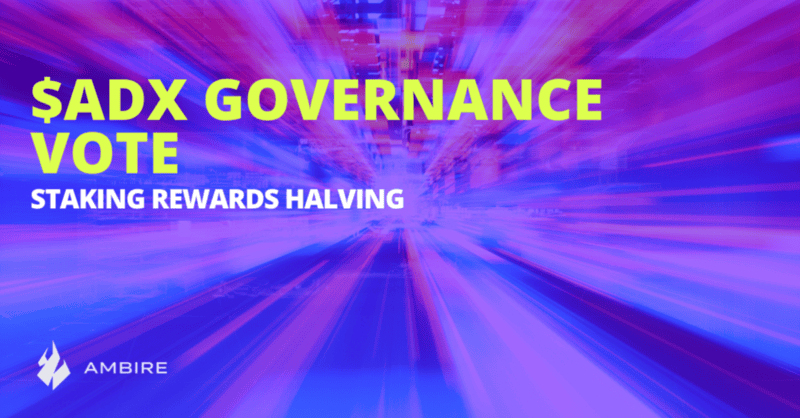 We are holding a vote to decide the future of ADX staking rewards
The native token of the Ambire AdEx has a fixed supply of 150,000,000 ADX. This supply cap has now almost been reached, meaning that no new ADX staking rewards can be minted.
To solve this and prolong the issuance of rewards in the best interest of our stakes, we are taking the following steps:
Burning a certain amount of tokens from the Ambire AdEx treasury, and
Holding a governance vote for cutting staking rewards by 50%.
The governance vote
The vote will take place this week, starting today — June 15, 2022, and will continue for 5 days until June 22, 2022. The decision of the vote will come into effect within 1–5 days of the voting period end.
Voters will have the power to decide whether to halve staking rewards and see staking end as soon as the cap is reached again, or to cut the percentage in half but have staking for an extended period of time.
If the halving vote passes, this will have an immediate effect by reducing the staking APY by 50%.
Currently, ADX staking offers an annual yield of 36.98% — even if halved, this will still be a significant APY for stakers.
In light of recent market conditions, we believe that this is the best time to reduce issuance. This will help us increase the stability of the ADX price, and will allow our stakers to yield higher earnings in the long run.
Who can vote
The vote will be open to holders of our two governance tokens: ADX-STAKING and ADX-LOYALTY. Keep in mind that people who hold ADX but do not stake it will not have the right to vote.
To cast your vote, go to the Snapshot page of the governance vote here: VOTE NOW.
---
Interested in AdEx? Follow us:
Discord | Twitter | Reddit | GitHub | Facebook